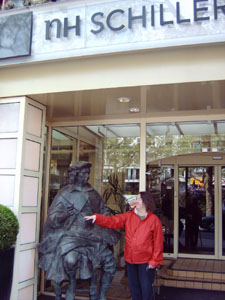 Well our honeymoon trip was nearly over. We didn't want it to end and couldn't sleep thinking about it. We got up at 6am and picked our conversation from the previous evening. At about 8am we went out to once again walk around the Rembrandtplein area. It was quiet and nothing was open. We just walked around, occasionally stopping to sit on a park bench. We spent the time together talking and holding hands. We saw and experienced so much on this trip. Despite a few troubles, it was a wonderful time we will never forget as we start our life together.
After a while we went back to the NH Shiller Hotel and grabbed a bite at the breakfast buffet. Lisa tried this topping on her toast that was sort of a Coco-crispy jelly. It was odd but we were trying local foods right? We then went back out and by this time the souvenir shops were starting to open. We did a little last minute shopping and picked up a few things including some Dutch chocolates to bring back and share with family.
We then went back, packed up and checked out of the hotel. The desk clerk flagged down a taxi for us. We can't say enough about the service we received at the NH Schiller. They helped us at every turn, whether it was getting us ice and bandages in the middle of the night, or just finding us a couple extra fluffy pillows, and would not even take a tip - saying these are services they are happy to provide.
As we were being driven to the airport we notice it was cloudy. Dennis asked the driver if he thought it would rain today. The driver said rain was expected in the afternoon. We commented how we couldn't have been blessed with better weather than we had on the entire trip.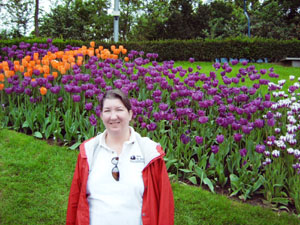 We got to the Amsterdam Airport about noon and checked in with Continental for our 1:30pm flight out. We then decided to have a soda in a little fast food area (which again we noticed was a smoking permitted area). As we were sitting there, and remembering that we were assigned seats in different rows on the first flight we took, we looked at the boarding passes and noticed that although we were seated together on the flight back to New Jersey, we were not seated together on the other two legs of our flight back home.
Not wanting to be separated, or count on a willing stranger to voluntarily move for us, we finished our drinks and went back to the Continental check-in to see if we could be reassigned. They did change our seating on the trip from NJ to Minneapolis but stated that we would have to talk to Northwest airlines for the flight from Minneapolis to La Crosse. They also chided us for not being at the gate as they said for security reasons the airline takes luggage off the plane for anyone who is not checked in AND at the gate 2 hours prior to the international flights.
A "here we go again" moment was flashing before our eyes, so we hurried to the gate. Once we found it (actually we could see all the people inside the glassed in area, but it took us a while to figure out where to go to get inside), we were asked many questions by security personnel before being allowed to get through the metal detectors (Lisa again set it off).
The flight left Amsterdam at 1:30pm and arrived in Newark Airport at 3:30pm (ah, those time zone changes). The plane was equipped with personal TV sets in the back of the seat in front of us so that we could tune in various movies, TV shows, or music. Kind of cool and helped pass the time very quickly.
At the NJ airport we were warned that we would need to collect our bags and hand carry them through customs and declare anything we were bringing back to the country. Then once past that, we could give the baggage back to airline personnel so they could get it onto our next plane. An odd system, but not bad. As we went back through Security after dropping off our luggage, Lisa again set off the metal detector as did a woman just behind Lisa. Dennis was next and the TSA worker demanded he remove his shoes. Dennis questioned this saying we have been through lots of airports and never had to take them off and never tripped an alarm. He also knew that Lisa was being stopped and examined and he wanted to be able to grab our carry-ons rather than leave them there.
The worker then called for back-up, had one person search Lisa, another search Dennis, and two others went through everything in the carry-on bags. They confiscated Lisa's lighter and gave her a lecture on having it, but finally let us go. Sigh. While waiting for our next plane we were struck by how busy the airport was, how everyone seemed to be rushing around, and how many people were talking on cell phones. We didn't see that in the European airports or cities. We were already missing the laid-back European culture!
We got to the Minneapolis Airport about 9pm. Lisa set off the metal detector again. We did get Northwest to reassign our seats so that we could sit together. And we were on the final leg of this wonderful journey. We got into the La Crosse Airport at about 11pm. We got our bags, loaded things into the car, paid for parking and by time we got to the Best Western Riverport Inn & Suites in Winona, MN it was midnight (which would be 7am Central Europe time). We were beat. We had been up over 24 hours and didn't sleep much on the plane as Dennis' plan to fight jet lag was to stay up and tire ourselves out so that we would sleep well when we arrived and therefore be back on a normal US sleep schedule. It worked. We slept well.