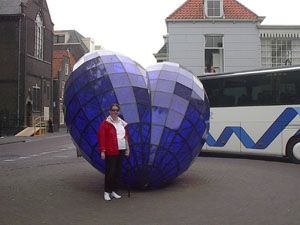 Monday was our last full day in Europe and it was going to be a good one! We went down for the Dutch breakfast buffet in the hotel restaurant. It included a large variety of fruit, hot food, cold cereal, and of course plenty of pastries the Dutch are famous for. After breakfast, we caught a taxi to meet the motorcoach which was going to take us on the "Grand Holland" motorcoach tour. We checked in at the office and visited some more souvenir shops while waiting for the bus to arrive.
We were hoping that the driver would be better than we experienced in Scotland, and were not disappointed! In addition to the bus driver, there was a tour guide who seemed to be talking all the time because after he said something in English, he repeated it in German, Spanish, and French. Wow, it was something to hear!!
The driver took his time and even stopped several places for picture stops in addition to the scheduled stops. We first stopped in Aalsmeer and toured "the world's largest flower auction" Interesting but it would have been nice to know how much walking there was (this place was huge) as with Lisa still nursing a sore ankle we might have went a little ways inside instead of walking the entire length and then circling back.
We then went to the city of Delft and went to De Delftse Pauw, one of only 2 shops where they still make the famous hand-painted Delft Blue pottery. It was very interesting to see the process and watch the workers painting pieces. We bought a small plate we can hang on our wall to remind us of this trip! Before leaving Delft, we stopped to grab a bite to eat and a big ice cream at the William Van Oranje Café', which was right on the main city square.
Once we were back underway we traveled to the city of Rotterdam. We saw several sights that we recognized from the Jackie Chan movie "Who am I?" and even traveled over the bridge where the final scene was filmed. The tour guide told us that Rotterdam is the most modern large city in Europe and may be the only one with skyscrapers in the main downtown because after World War II, when Rotterdam was virtually bombed to the ground, they made the decision not to restore the city buildings but instead build new modern buildings.
After Rotterdam, we drove to The Hague and saw the Houses of Parliament and foreign embassies. We then went for a visit at the famous miniature town of Holland called Madurodam. This place has miniature models of all the famous buildings and sights in the country. Some of them we had seen full size! Everything was animated. There was a miniature oil tanker that caught fire and a miniature fire boat sprayed water on it to put out the fire. The miniature airplanes at the miniature airport would taxi around. A very cool place. We wished we had more time to explore this unique place!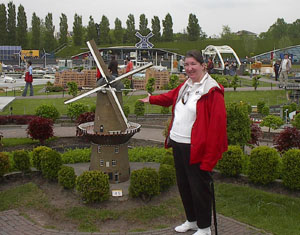 On our way back to Amsterdam we drove through the beautiful North Sea resort of Scheveningen on the North Sea. The tour guide even mentioned that on the "other side of the North Sea is an insignificant island called England." You could hear a dead silence to that remark. Just before arriving back in Amsterdam we saw our one and only full sized windmill (we had seen several miniature ones at Madurodam). That was a thrill! Overall this was a very enjoyable tour. We were glad it was more relaxed than the one we took in the Scottish Highlands. Dennis left the bus driver a tip in his wooden shoe as the driver noticed Lisa's injury and was always there to give Lisa a hand getting off the bus.
We started to walk back but after deciding it had been a long and eventful day we caught a taxi back to Rembrandt Square where we grabbed a light supper (we had nibbled on things all day on the trip), relaxed, people-watched, and recounted this once in a lifetime honeymoon together, as we spent our last evening in Europe.