We are pleased to announce that Lisa Erickson and Dennis Shaw are engaged to be married on May 6, 2006! We have been a couple for 8 to 9 years now, and now is the time to commit to marriage!!
Dennis proposed to Lisa on May 5, 2005 (5-5-5) at the Crystal River Inn Bed and Breakfast just outside of Waupaca, WI after treating her to a full treatment at the Healthy Escape Spa Salon there in Waupaca. The owner was so happy to be a part of "our engagement story" that she gave Lisa a Bridal beany baby bear. Please feel free to read the whole story on our "Proposal Page". You'll also read about the wedding rings we have picked out for each other on that page.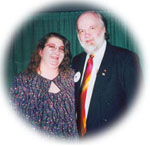 Our ceremony will be held at Menomonie Alliance Church (MAC) at 4:30 pm on May 6, 2006 (5-6-6). Guests will find directions to the church on our "Directions Page".
MAC is a beautiful church and a very special place where we are growing together in the Lord. We are so pleased that Pastor Jack Stimmel will be performing our ceremony. We are planning a very unique wedding that will encorporate our heritage. Dennis is Scot-Irish and the Wisconsin-Minnesota Convener for the Clan Shaw Society and an active member of the Minnesota Coalition of Scottish Clans, so you will see plenty of tartan at our wedding. Lisa is Dutch-Norwegian and plans to make sure tulips are a large part of the flower arrangements.
The reception will be held at the historic Olde Towne Menomonie. There will be a cocktail hour following the ceremony. We are pleased to announce that we will be entertained at the reception by Serena O'Meara playing the Celtic Harp. Dinner will begin at 6:30pm, and a dance and social time will start around 8pm. Guests will find directions to the church on our "Directions Page".
Olde Towne Menomonie was built in an old Dotseth Trucking barn and is made up entirely of recycled materials from area historic sites that we being torn down and lost to history. The inside is filled with antiques making it a truely unique place (as if you couldn't guess by seeing part of an old bridge attached to the front of the building). Jackie Dotseth who owns and runs the place is a good friend and we thank her for helping us with the reception arrangements! If you are interested in knowing more about Jackie or Olde Towne, you might want to read the article titled Jackie loves her Old Towne Menomonie which appeared in the Chippewa Valley Business Report.
When we started looking for places to sign up for bridal registries, we decided that we did not need more "stuff." A friend told Dennis about a honeymoon travel registry called "The Big Day" that got our interest up. We are both adults who have lived on our own and have almost everything we could ever need to make a household together. With wedding expenses, saving to buy a house, moving expenses, and helping with Dennis' son Mike's college expenses there was no way we could afford a dream honeymoon vacation on our own. But with the help of our friends and family and the honeymoon registry we are going for it!
As already stated, family and heritage are important to both of us. So when we started planning a dream honeymoon, it was obvious where we should go... we will be flying to Europe and spending 3 days in Scotland (so Dennis can experience his roots), 2 in Paris (where Lisa dreamed as a little girl of going when she marries), and finish it all of with 3 more days in Holland (Lisa's roots). Click here if you are interested in seeing where we will be.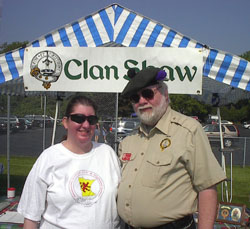 We are so excited about the possibility of this dream honeymoon, and thank or friends and family, in advance, for contributing to our Lisa & Dennis' BigDay honeymoon registry to help make our dreams come true. What a great way to start our life together!
So plan on joining us for a truly unique wedding and reception. We know that many of our friends and family are coming from out-of-town so, we have reserved a block of rooms at a local hotel. Details can be found on our "Lodging Page".
And men, feel free in joining Dennis by wearing your kilt if you have one!