Dennis: I was looking to arrange a romantic get-away where I could propose. I wanted it to be a memorable time and thought 5-5-05 seemed like a magical date to do it on. We were heading out of town that weekend for the state GOP convention so I had to come up with a reason for us to go someplace the day before we needed to leave town for that. I suggested to Lisa that we leave a day early and stay someplace so that we could take a day to ourselves as the conventions are usually crazy times with everybody seeming to want our time. She agreed so I started making the plans.
Lisa: As Dennis said, he thought as we would be busy during then, so we planned to stay at a hotel halfway across the state to have some time for ourselves. I always let Dennis make the reservations so didn't give any thought to where we were going to be staying.
Dennis: I got us a room at the Crystal River Inn, a romantic B&B just outside of Waupaca (which was about 1/2 way to the convention in Sheboygan) and said that I was looking for a private room where we could spend some time just by ourselves. The guy I spoke to was very accommodating and said we could have the "Wood Room." I also tried to make a reservation at Healthy Escape Spa Salon, a day spa in that town to pamper Lisa and get her in a real good mood before I "popped the question". But never having went to a spa myself I didn't know that they needed to know what services she wanted so they told me I had to spoil that part of the surprise and ask her what she wanted to do at the spa. So I did tell her that part ahead of time so she could choose what to do there. I told her it was going to be a surprise to treat her because she has been dealing with recovering from her hip surgery these past several months.
Lisa: He told me that he planned for a surprise spa treatment. I remember thinking well that surprise wasn't going to be one, but he, once again, was sweet for thinking of me. So I looked over the descriptions of what they could do and picked out 3 things I wanted to try - a Rosehip body wrap, a manicure and a pedicure.
Dennis: So we drove over to Waupaca on Thursday where I left her at the day spa for her treatment that afternoon. I then checked into the B&B and scouted the town. After Lisa had been there about 3 hours I went back to get her.
On the way back my angel was watching out for me because as I turned onto the highway to go back to town a car chose that time to pass a big truck and was in my lane as I entered the highway. I am still not sure how we missed each other being 3 wide on a 2-lane highway and none of us leaving the road, but we did. I thanked God and imagined for a moment how terrible that could have been if I would have been in an accident with Lisa alone at the Spa not knowing where I was or what might have happened.
The staff at the spa had said it might be as much as 4 hours, but I returned after about 3 hours and camped out in their lobby (occupying my time by sewing a patch on the shirt I was going to wear the next day) because I didn't want her to wait even a minute for me to return.
Lisa: Three hours or so later, everything had been done. I couldn't stop looking at how nice my nails looked. Little would I know later that I'd look at my hands a lot more. Dennis picked me up and I thought we were going to a hotel in the area. More driving. . .into the country side. Then he pulled into a driveway that looked like the place to stay at was in a barn. I became very confused and asked what was going on. Dennis said "just wait a minute" and pulled the car in front of a house. Then he explained that they were staying at a Bed and Breakfast! Nice!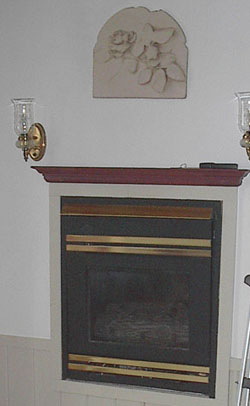 We went in to go to the room that was on the side of the house that used to be a wood storage shack (must be why they call it the Wood Room). Everything in that room was really nice and cozy as it had a big heart-shaped whirlpool, a built-in fireplace in the wall, frilly bedspread on the bed. Also when the fireplace was turned on, not only did it have a gas "fire" flickering, but played jazz music too.
Dennis: Well Lisa loved the room and her spa treatment! I took her to dinner then explained that I thought of buying a bottle of wine but didn't know what kind she might like. So I asked her if we should stop and picked up a bottle of wine. She agreed, and inside the liquor store I spied earlier I "remembered" that we didn't have a cork screw with us. So, we picked up a bottle of Champagne since that needs no cork screw. Then we returned to our room at the B & B.
Lisa: The bottle was opened and we were about to sip the champagne as we chatted in front of the fire. Then, Dennis gets a little serious, talking about how we've talked about getting married some day and then he got down on one knee and proposed. I was taken aback and a little breathless and thought for a moment. Finally I said "Yes" to him! Then he explained that he had thought of getting a ring but decided it would be better if I picked one out for myself as he wanted me to really like the ring. I had to agree with that idea because it would be terrible to look at the ring on my finger and not like it.
Dennis: As someone once said, "I love it when a plan comes together!" I was so happy! We kissed and after a toast we sat outside the B&B in a swing overlooking a babbling brook and talked about the future.
Lisa: It was a nice moment of sitting on the swing as we talked about the future. . .dreaming, talking and planning about what the wedding will be. . .talking about the future. . .letting it all sink in that we will be together forever. . .that we won't forget the day we got engaged, on May 5, 2005, or 5-5-05 (I joked that if we got engaged on 5-5-05, do we have to get married on 6-6-06? Noooooooo).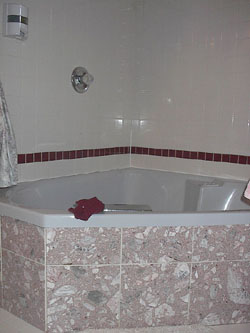 Lisa and Dennis: The next morning after a wonderful breakfast in the gazebo room with our hosts, Lisa wrote our story in the guest book and took pictures of the room (which you see on this web page). As we were checking out, we told the owner of the B & B that we got engaged the night before. We asked her to take our picture in front of the Wood Room for a momento. She was so thrilled and excited about the news that they were a part of our engagement night that she went back inside and came out and gave Lisa a Bride Beany Baby before she took our picture.
Before we left town we stopped in the local jewelry store to get ideas for what kind of ring Lisa wanted. Then we went to the convention (which is always a good time) but it was great to announce the good news at our to friends at the district hospitality room. Telling others before telling family seemed a little weird to Lisa, but since Dennis had been District Chairman for the past 4 years (he was stepping aside at this event) the people in that room he considered close personal friends!
The day after we got back home was Mothers Day. Lisa's mother had called several days before we left on our trip asking when we were going to stop by for a visit, so Dennis had suggested we come by on mothers Day, when we returned from the trip (again planning ahead and knowing that would be the first opportunity to announce it to her family). When we got her mother and father together at the kitchen table Lisa announced that Dennis had asked her to marry him and that she said yes! But, Dennis also stated he was a "traditional kind of guy" wanted to formally asked her father for her hand. He immediately said yes!
We had hoped to make a trip to Beloit to see Dennis' family but that did not work out. But Dennis checked with his brothers and found out what time the family would be together for his father's birthday on May 16 saying he wanted to call and wish him a happy birthday. We called and also told him we were engaged!
Within the next weeks we went ring shopping. The only thing Lisa knew ahead of time was that she didn't want a huge stone as her fingers are small. As we shopped, Dennis was watching Lisa's eyes as she was looking at rings to gauge which she appeared to like. It was obvious that she liked a solitare diamond engagement ring from one store (the diamond seemed to sparkle more than others we saw) and a diamond and ruby wedding band wrap (red is Lisa's favorite color and with 4 sets of stones on the wrap and one solitare, it adds up to 5 - like the day we got engaged 5-5-05) from another.
We went back to the store with the wrap (Goodman Jewelers in Eau Claire) because the sales clerk there treated us the best. We told her she really liked the wrap but we needed a diamond solitare with more sparkle. She showed us a one with a diamond that was near flawless in clarity and color and was a special cut (it has 66 facets instead of the 58 that are normally in a diamond). It sparkled and so did Lisa's eyes! Dennis bought them, but not before the Scot in him showed itself and he negotiated a lower price for the set. We had the rings resized and the solitare lowered a bit so it doesn't stick up as far.
We later went shopping for a ring for Dennis. His only goal was to have the rings look like they matched. After we are married he wants people to look at the rings on our hands and to be able to tell that we are married to each other. We looked around and didn't find anything we liked. For a while we thought we might have to have a ring made. Lisa did like a ring that had 9 diamonds in it but both agreed it was a bit much.
But we kept going back to that store (in Mapelwood, MN). We finally spied one that was the same style with 5 diamonds in it. We spoke to the jeweler and arranged for 2 of the diamonds to be removed and rubies put in instead. So it is a gold band (Dennis likes white gold better but as Lisa's rings are gold, he agreed to get a gold band) with 5 stones (again significant because of the engagement date) - 3 diamonds and 2 rubies.
When we picked up Dennis' ring, Lisa also brought both her rings. We put them all on and put our hands together. They match! We can't wait until May 6 so we can wear them for the rest of our lives!! We hope you enjoyed our story as much as we loved sharing it with you. We hope to see you all on our wedding day. Until then, may God bless you all. He has us!