Lisa and Dennis wanted to take this space to say a few words about the wedding. What a wonderful afternoon and evening! The wedding announcement in the papers (Menomonie paper as well as Dennis and Lisa's hometown papers) summarizes it well.
We have uploaded our wedding pictures and honeymoon pictures (to the Walgreen's Photo Share Website), so feel free to take a look and relive that day with us.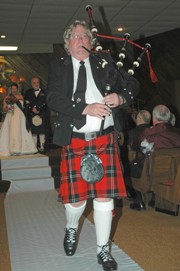 A special thanks to our parents Pat & Gary Erickson and Mary & Glen Shaw; Lisa's Matron of Honor Beats Harms (Lisa's aunt & Godmother); Dennis' Best Man, Jeff Nelson, Bridesmaid Brenda Ziolkowski (Lisa's sister); Groomsman Mike Shaw (Dennis' son); the Flower girls Hannah Loomis and Riley Ziolkowski (Lisa's nieces); Ringbearer Jake Ziolkowski (Lisa's nephew); Ushers Ron and Dave Shaw (Dennis' brothers - and wasn't Ron a great MC at the dinner!); Scripture Reader Joann Molde (Lisa's aunt); Dinner greeters Curt and Cindy Shaw (Dennis' brother & sister-in-law); and our friend Cliff Kutzner for leading us in prayer before the dinner.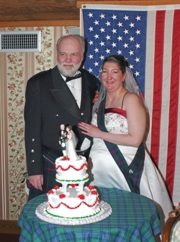 Also, we thank Pastor Jack Stimmel of Menomonie Alliance Church who spent much time with us in pre-marriage sessions and had inspiring words for us during the ceremony; Pastor Mike Shay who helped with the audio system/music; Tom Lucas, MN Convener for Clan Keith USA and President of the Minnesota Coalition of Scottish Clans for performing the kilt christening ceremony for the men wearing their kilts for the first time; Steve Vandeberg and his staff at the Holiday Manor Inn and Conference Center in Menomonie for making our rehearsal dinner special; and Jackie Dotseth and her wonderful staff at Olde Towne Menomonie for helping make everything special at the reception (and especially for agreeing to make that delicious dutch entree Kaasschnitzels met ananas).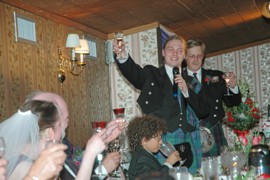 And, the music was wonderful thanks to Dennis' friend Scot Catto who played the bagpipes at the wedding, Serena O'Meara who played the Celtic harp at the reception, and Nitro Entertainment who provided the dance music (as well as taking those wonderful wedding pictures).
But mostly we want to thank each and every one of our closest friends and family who join us, sang us songs at the dinner, and helped make memories we will never forget!! We planned to leave the dance around 10pm so we could get to our hotel early (we stayed at the Arrowhead Lodge and Suites in Black River Falls - you no doubt have seen the orange moose out front when passing by on I-94) as we were flying out to Europe from La Crosse the next morning. But we were having such a good time visiting with the die-hards at the dance that we didn't get out of Menomonie until 11:30pm.
Thank you all!