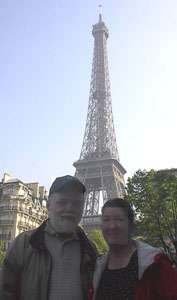 Saturday before we left Paris we decided to just spend the rest of our time there at the Eiffel Tower. So, we slept in a bit, pampering ourselves in our luxury hotel room, before heading back over to the Eiffel Tower. Lisa had been hesitating to go up in the tower as she was not sure she would like how high up it was, particularly knowing that her mobility is not what it was before her hip surgery.
We decided to pass up this last chance to go to the top. We were happy to grab a bite to eat and just spend time on the park benches under and around the tower. Speaking of eating, Dennis grabbed a 3 Fromage Panini while Lisa had a double hot dog, which consisted of a french bread with 2 holes drilled into it so that 2 foot long hotdogs would fit inside - looked odd but again, we wanted to experience local cuisine! While we were seated on the park bench, there were a lot of pigeons lurking about while other people were feeding them. They bothered Lisa so much that she would shake her cane and see them fly away from her.
After our last visit to the tower, we headed back to the hotel to get our luggage out of storage (we had checked out before going back to the Eiffel Tower) and getting a taxi back to the airport. Lisa kept looking back to look at the Tower several times and even had a tear in her eye. It was a bitter-sweet moment as we had such a great time, but had to leave for the next stop in our dream honeymoon adventure.
That's when things went downhill a bit on us. It started with the taxi driver arguing with Dennis as he did not get as big of a tip as he thought he should get (or so we think through the language barrier). It took us a while to figure out where to go at the Charles de Gaulle International Airport to check in with Aer Lingus (Irish) Airlines. Our flight was scheduled to leave at 3pm and after a brief stopover in the Dublin, Ireland Airport, would take us to Amsterdam in The Netherlands.
We found where we checked in which included long lines and people getting in the lines ahead of us. Again, there was a little bit of a language problem as Dennis had to ask 3 times to make sure our luggage would go all the way to Amsterdam with us. Then we went around in circles a bit, going onto these strange upturned conveyer belts before we figured out where to go to the plane. Of course Lisa's hip set off the metal detector again and she again had to deal with their security people.
As we were waiting for the plane, it started to rain. At least we had good weather while we were doing tourist things! While we were seated onto the plane, they announced that 3 people had checked in for the flight and checked luggage but never got on the plane. The delay was to figure out which baggage needed to be removed from the plane for security reasons. When we arrived in Dublin we had to wait another 15 minutes while they cleared a gate for our plane. Then another 5 minutes while we waited for a bus to take us to immigration.
All this time Dennis is looking at his watch and the boarding passes for us to get onto our connecting flight. We got to immigration and were asked how long we planned to be in Ireland. Dennis said 5 minutes if we don't miss the connection to Amsterdam! We got through that and then tried to rush to find our gate. Dennis stopped an airport employee to ask if we were going the right direction and was told we were not, she suggested we go back and get directions from Aer Lingus personnel. We asked if any porters were around with motorized carts as we were about to miss our plane and Lisa could not walk very fast. They didn't have anything like that (of course).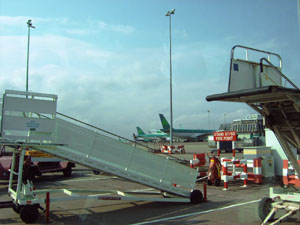 So we went to talk to Aer Lingus and were told that (1) we were not going to miss the plane as the time on the boarding pass was the time they want us at the gate not the time the plane was to leave - that was a relief and (2) we were going the right way before we backtracked to ask them as suggested by the airport personnel.
After breathing a sigh of relief and found our way to the departure gate (with Lisa setting off the metal detector once again). Once we were aboard the plane, we discovered it was very comfortable and roomy. Could it be that our small run of troubles was finished?
We were on our way again and a couple hours later arrived at the Amsterdam Airport. We made our way through immigration and to the baggage claim area. Again, we noticed indoor smoking areas near the baggage claim and commented that you don't see that back home. Yes, many things reminded us that we were in a different culture.
We sat and waited for our bags to come out. There were tons of kids huddled around waiting to get their luggage, but none of them were from our plane. On the screen was a green symbol next to our flight number and a flashing green symbol next to a different flight number. Dennis had a bad feeling about why we didn't see people from our plane, so after some time he looked up an airport worker and asked about what the green symbol means. She told him it meant the baggage would be out soon.
Shortly baggage did start circulating and all the kids grabbed their bags. After it all came out and was picked up - and our bags were not in that load - the flashing symbol turned to solid green. Hmmmm. We deduced that the solid green symbol means all the luggage is out. AND, this was the second (or third) time this day that an airport worker told us something that was not true.
Dennis went to a desk set up for baggage problems and was told that there was a note on their computer that for some unknown reason Lisa's luggage was still at the Dublin Airport. They didn't know anything about Dennis' bag. Figures! We suspect that either there was not time to get the luggage switched since we arrived late in Dublin, or that possibly we had to do something in Dublin to carry it through immigration, and maybe that was what the desk person in Paris was trying to tell us in French. Oh well. Par for the course on this day of our trip.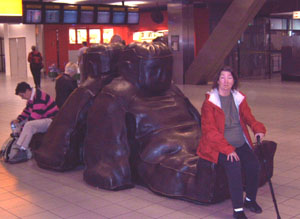 Lisa had to sign a form to have her bag sent to the hotel when it arrives and they would try to track down where Dennis' was. We noticed that it was after 9pm, so we hustled outside to get a cab. Dennis thought we needed to hurry to the hotel if we were going to find anyplace to have some dinner before the kitchens closed. So he zoomed up to the first cab in line which was sort of a Mercedes limo taxi. Lisa saw a sign saying we were not obligated to take any particular taxi, but with Dennis rushing he didn't notice she was trying to let him know about the sign. Turns out that this taxi ride was even more expensive than the ones in Paris. If we ever go to Amsterdam again, we'll know to compare prices before we get into a taxi!
But we finally in Amsterdam, and after an expensive taxi ride to the Rembrandtplein (Rembrandt Square), we were checking into the NH Schiller Hotel. We let the desk know that someone from the airport would be contacting Lisa (and hopefully Dennis) about her luggage in the morning. They seemed understanding and helpful.
The building was old and historic. The paintings on the walls we were told were from the large painting collection of Mr. Schiller. You couldn't get anywhere in the hotel without traveling up or down at least a few steep steps (which I'm told is common in Amsterdam), but at least they had an elevator so we only needed to go down 3 steps on the way to our room.
The room was small, particularly compared to the luxury room we had at the Paris Hilton, and the window gave us an fantastic view of a brick air vent. But we were happy to have a place to hang our hat, which along with the clothes on our back and a couple small carry-on bags, was all we had at the time.
The hotel restaurant was closed, so we went out in search for a meal. The area was alive with people and music and lights. It was actually energizing after a long and trying day. But we went to three places that had their kitchens closed before we finally found a place where we could grab a bite to eat called La Madonnia. Dennis had the special which was a ½ chicken dinner while Lisa tried a Dutch entree called gepaneedre kalfsschnitzel (a breaded veal scallopini). The waiter asked if we wanted garlic bread with that. It sounded good and we were hungry, so we said yes. What we got was a pizza crust with garlic butter on it. Weird way of making it, but once again we reminded ourselves that we were not at home.
After our meal we sat outside the restaurant and had another Heineken beer to unwind. We talked a little about not only trying the local foods but also keep authentic with local drinks (Scotch in Scotland, wine in Paris, and beer here) as well. But basically, we were just relaxing just people watching as well as watching the cat who resides in the restaurant (something which would not be allowed by health inspectors in the US) sleeping in the main window.
We then walked around the area a bit, before returning to the room. We were eager to put this day behind us and instead focus on the wonderful times we had so far during our dream honeymoon.