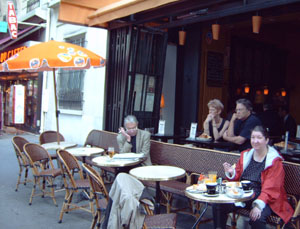 We started out the day by saying to ourselves, what (besides seeing the Eiffel Tower) does one do when visiting Paris? The answer was obvious, eat in a sidewalk café. So we walked down the street and found a little place called Café le Baille du Suffren. They had a breakfast special that said it included: jus d'orange, café ou creme ou chocolat ou the pain, confiture au miel beurre, and duex ceufs sur le plat jambon ou omelette jambon. Dennis wasn't sure about "the pain" as he figured that doesn't sound right, but Lisa who did take some french in school assured him that it would be a fine meal.
Turned out we had a couple ham omelettes, french bread with prune and peach jelly, an orange drink (it looked like orange soda but had pulp in it), tea, and chocolate coffee. A nice meal and a little people watching too! We then stopped at a little souvenir shop where Lisa bought a bunch of T-shirts, candles, postcard, and the like. We took those back to the hotel.
We then stopped at the concierge desk and asked for suggestions on how to see the sights of the city. After we told him what we wanted to see, he suggested we take Paris Grand Tour bus which was part of L'Open Tour Line, which was similar to what we did inside Edinburgh in that it was a double decker bus with stops at tourist sights where you could get off and back on. He even got us a ticket for the tour bus! This one had earphones similar to our highlands tour that told about each stop as you approached it.
The first place we went to was the Hôtel des Invalides. This is a vast complex founded Louis XIV's to take in French ex-servicemen and handicapped war veterans. There are several tours you can take there but we were interested in seeing Napoleon's Tomb. For such a small despot, the grave was huge. Very interesting. We took lots of pictures inside.
We then visited the Louvre Museum. We thought that it was odd that the bus (and other street traffic) drove though the actual building into a courtyard area to let us off. We had to enter into this all glass pyramid to get inside where we went through a security checkpoint. This was the only metal detector that Lisa did not set off in our entire trip!
The building was huge! It is the largest (and most famous museum) in the world. The building was a royal palace that was turned into a public museum during the French Revolution. We could have spent the whole day there! We looked at some ancient parts of the building, Egyptian items such as a replica of the sphinx, sculptures, paintings, and much more. We did make sure to go to the section where we could see the Mona Lisa. Cool place!
After leaving the Louvre, we went to a couple shops just outside on the street that leads to the opera building. On the way we felt about 2 raindrops, but it didn't rain, it just cooled off (which was good as it was a hot day). Then back on the tour bus for the next stop.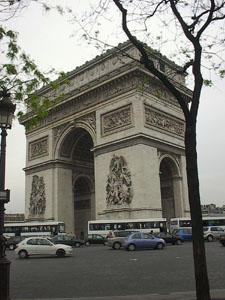 It was getting pretty late so we skipped shopping on the Champs-Elysées but did stop at the end of the street so we could sit in a little park across from the Arc de Triomphe. A military band was just finishing up playing there as our bus pulled up there. Then we took the tour bus back to the Eiffel Tower which we walked past on our way back to the hotel.
By this time we were getting hungry again, so we went a different direction to see which café to eat in this time. We found a place called Le Buaurre'. The waiter was the stereotypical French waiter and held Lisa's hand as we were escorted to our table. We were seated at a table that was virtually on top of another couple sitting just outside the café (there would have been a wall there but it was opened up to the air that night). That was a little uncomfortable for us Americans who are used to our space, but we were in another country and so that was fine.
For dinner, we are not exactly sure what we had but we ordered: assiette de saumon fume' (cold salmon on toast), poelees de St. Jacqusa la furestiere riz Basmatie, Magret de Canard sauce au poiure et gratin dauphinors, and topped it off with moelleux au chocolat. And of course washed it down with some french wines. Another good meal to finish off another good day!