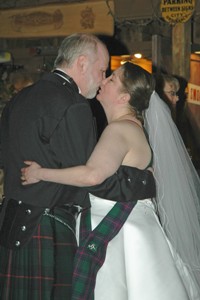 What a wonderful wedding! We want to thank each and every one of our closest friends and family who joined us, sang us songs at the dinner, and helped make memories we will never forget!!
We had planned to leave the dance around 10pm so we could get to our hotel early (we stayed at the Arrowhead Lodge and Suites in Black River Falls - you no doubt have seen the orange moose out front when passing by on I-94).
We felt we needed to get close to La Crosse as we were flying out to Europe right away the next morning. But we were having such a good time visiting with the die-hards at the dance that we didn't get out of Menomonie until 11:30pm.
We talked bout the wedding and reception the entire way in the car. So we didn't get to the hotel until after 12:30am but it didn't seem like it took us an hour.
We checked into our suite, excited, energized, thankful, blessed, and in love. For nearly a fortnight we will be honeymooning in Europe!
Wow!!