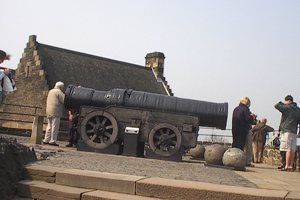 After a Scottish breakfast buffet in the hotel restaurant, we wanted to see the city and weren't sure the best way to do that. The hotel staff was very helpful with showing us a brochure to the Edinburgh Tour Bus. These were green double decker buses that made a big loop around the city and had several stops where we could get off, spend as much time as we wanted there, and then get back on to go to the point of interest.
We got on and the first stop was Edinburgh Castle. This medieval castle stands high up on an extinct volcano. As we walked up, and up, and up on this cobblestone street leading to the castle gates, a worker there noticed Lisa walking with her cane very slowly. She approached us and asked if Lisa would like to have a wheelchair to make the climb easier for her. We agreed and thanked her. After that Lisa sat in as much comfort as the rocky road allowed and let her new husband push her up, and up, and up farther to the castle.
The view was breathtaking! We saw the Scottish Crown Jewels. We also saw the Stone of Destiny where Scottish Kings were coronated. We even saw where the soldiers had buried their pet dogs in a small cemetery just away from the canons. At 1pm they fired a canon from Mills Mount Battery. We took lots of pictures and enjoyed our visit. It was all very interesting. This is certainly a "must-see" for anyone visiting Edinburgh.
On the way back down a little ol' lady came up to Lisa and in a heavy Scottish accent asked her if she trusted Dennis not to let loose of the wheelchair. We had a good laugh about that and explained to her that we just got married 3 days ago, so of course she trusts her husband! She and her friends were so cute when they heard we were newlyweds. How does that commercial go - "priceless"!
While returning to the bus stop we stopped into a few places on the "Royal Mile", the famous cobbled street linking the Castle with the Palace of Holyroodhouse. We stopped into the Scotch Whisky Heritage Centre, a fabric weaver, and several souvenir shops.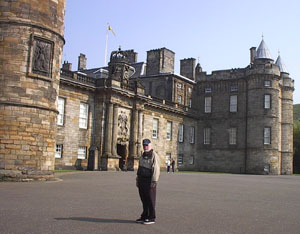 We then took the bus to the Holyroodhouse Palace, This was once home to Mary Queen of Scots and is the official residence in Scotland of Her Majesty the Queen. When we entered we saw a large staircase to climb so Dennis asked a guard if there was an elevator (or lift as they say over there) that we could use instead. He said he would take care of us and called someone who took us through some roped off areas to the entrance used by the Queen and other Royal Family members when they stay there. So we said that was pretty cool to be treated like royalty!
The Palace was beautiful with tons of historical artifacts. Lisa was impressed by a huge stag head (and it was huge, she kept calling it a moose but it had deer like antlers - one of the staff told her she thought it was shot in Canada). After taking the tour we walked through the royal garden for a bit.
Then it was back on the bus and back to Princes Street shopping district for a short visit and then catching one of the last buses back to the hotel. When we got off the bus we noticed a famous restaurant specializing in Scottish food called Stac Polly. Went back to the hotel to change clothes and went out to walk around to see where we wanted to eat. After a while, we decided to try Stac Polly (near the Lyceum Theatre). The first thing you notice when entering is its warm but elegantly formal decor. It was tastefully decorated, with tartan ribbons on menus, a thistle flower on the table, and other things that told you that you are in a Scottish restaurant.
This time Lisa had clam chowder, oatmeal crusted trout fillet, and baby corn. Dennis settled on the roast Angus beef, with carrots, and Chateau Buy Fromage. We shared a cranachan mille feville with raspberry coulis dessert. Lisa had a wine and Dennis a Scotch and we again toasted to those who made this meal possible!
When we returned to the hotel we remembered that on Tuesday nights they have a live jazz band in the bar, so we decided to check it out. Dennis ordered drinks and reported that the bartender was a bit confused when he ordered a Scotch. She asked him, "Do you mean you want a whiskey?" We laughed about that and only got to listen to a couple songs before the band ended (in the US they would play until the bar closes). Oh well, we didn't mind as long as we were there together! Another wonderful end to a wonderful day!