What's Up with the Hats Dennis Wears?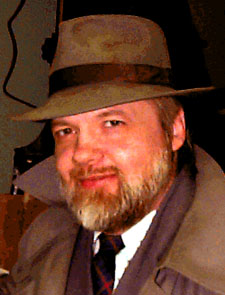 Anyone who has met me has noticed that I seem to be the "man of 1,000 hats." You may have seen me sporting everything from the Bogart-ish 1940s style fedoras, to Coyboy hats, to Panama Jacks, to a Balmoral, to a Scottish Tam (in Clan Shaw tartan colors of course!) to traditional baseball style caps. But did you ever wonder how I came to wear unusual caps?
Well it all started back in 1989 when I was promoted to Director of Security and Safety at Beloit College. Now, my former boss, and indeed most of the persons I knew who held such a position wanted to low key and did nothing to attract attention to themselves. Better to quietly do a good job, afterall campus law enforcement deals with enough trouble without calling attention to ourselves.
I had a different philosophy. I wanted to do something to make the students recognize him on campus. I took my cue from a hero of mine in Wisconsin politics, Governor Lee Sherman Dreyfus. While he was Chancellor at University of Wisconsin-Stevens Point, Dreyfus wore a red vest. His thinking was that students might not remember his face but if they recognized his vest, they would know who he was and would have access to him whenever they saw him.
My thinking was similar - that if I became a recognizable figure on campus, and if I publicized the fact that I was approachable and that I really wanted to hear from the students, that they will take advantage of it by seeking me out at anytime and letting me know their thoughts, concerns, suggestions, and the like. I knew that students often felt uncomfortable approaching the "Campus Police Chief" unless they were a crime victim. Yet their input, Shaw felt, was critical in improving the safety of the campus.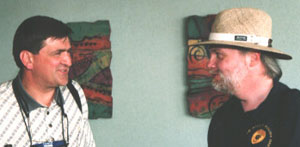 As I have long been a fan of old classic movies and particularly Bogart. One day while watching Bogart play a "Private Eye" on the screen, I got the idea of buying a fedora and wearing it around campus. I reasoned that very few people on campus wore such a hat and the look, often coupled with an overcoat, seemed to fit the profession well.
The result was exactly what I was looking for. The student newspapers and employee newsletters at Beloit College and later at UW-Stout were happy to print the story of why I wore the hats. Students who read the story started approaching me (often starting the conversation by saying "You're the hat guy, right?") as I strolled from building to building and felt free to talk with me -- and related their concerns.
Over the years I have expanded my collection of hats and am constantly on the look-out for hats that fit my personality. As I've continued to be a leader in many organizations, I still feel it is important to be open and approachable. The hats are a symbol of that. Although I must confess that I am no longer unique in wearing my hats at Stout, so be warned that if are on the Stout campus, and approach an older man with a grey beard who is wearing a fedora hat, it might be me, or Assistant Chancellor Dave Williams, or Library Director Paul Roberts, or even Teaching & Learning Center Director/English Professor Dan Riorden. But don't worry, any of us would be happy to talk to you!

---
Copyright © 2002, 2009, Dennis Shaw, Menomonie, WI